Buckeye
—» Details For: Buckeye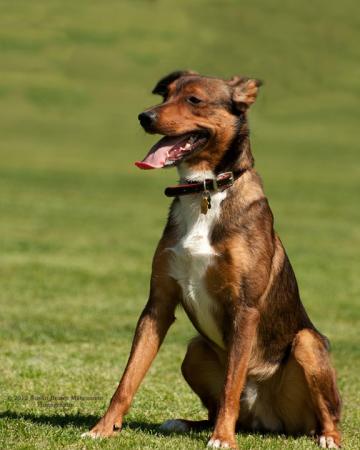 Status
Breeding Stock - Maggie ElliottIn Competition/Training
View Litters
About Buckeye
Date Born: 02/17/2011
Buckeye, fondly known as Bucky, has been with LylaClare Kosobucki as her 2nd disc dog for competitions. In 2013 he was Skyhoundz Southwest Regional Disc Dog Youth Champion and he placed 4th at the Skyhoundz World Championship in the Youth Division. He is owned by Maggie Elliott McNabs. In 2015 Bucky went into training with Brandy Oates of SC. He continues his Disc dog competitions and is now competing in Dock Diving.
Other Puppies in Buckeye 's Litter
Ruby, Truk, Brownie, Sam, Cedar
Updates for Buckeye
Bucky has qualified for the 2016 Updog Disc Dog Challenge International Finals which will be held...


Yesterday(3.2.13) at the Skyhoundz Disc Dog event in Las Vegas Bucky p...


Buckeye and LylaClare qualified for the Bullseye in the Skythoundz World Championship DiscDogatho...


Here's a link to Buckeye competing in the Intermediate division of the UFO in Colorado earlier th...


LylaClare with Elsee and Buckeye had a great time competing at the Colorado Disc Dogs, Colorado ...



2012-05-16
...


Bucky has had fun in MT this summer with his siblings and cousins.
...
Buckeye is my favorite because he reminds me of his great grandfather Nikko.
...
Buckeye on St. Patty's Day
...
Buckeye is such a handsome boy. He's getting his teeth in and he'll be trying out food by t...


Buckeye's eyes are open now
...
This week's picture 2.14.11
...
About Buckeye's Parents

Birth Date: 12/03/2006
Parents
Sire: Whiskey Dam: Pineridge/Piney