Whiskey
—» Details For: Whiskey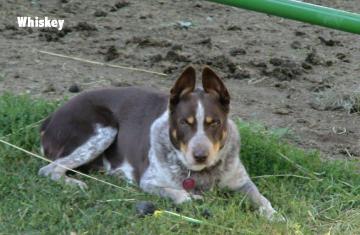 Status
Deceased
View Litters
About Whiskey
Date Born: 12/22/1997
Updates for Whiskey
Bella, Cindy Elliott's dog, and I had fun play with the frisbee. She is a quick study. I ha...


Bella, the daughter of Whiskey and Brandy is here for a visit.
...
A few more pictures of Bella Whiskey and Brandy's daughter of their 2005 litter
...
Whiskey passed away on Oct. 18th 2011. Whiskey left a legacy of talented children and grand...


Dawnell Kurwitz sent me pictures of her girl Rougie. Her mom is Jilly, Dad Whiskey and she ...


Whiskey has had a busy summer with all of his grand kids around him. Some who live here with him ...


Maggie, some pictures of our kids, Rusty & Kate. They are a big part of our lives and ...


Bob and I met Whiskey's breeder Judy Bingham on Sunday (4.17.11) She had Whiskey's 1/2 sister Cri...


Had a great time down in Riverside at the Kosobucki's home on Sunday (4.17.11). 3 generations of ...


About Whiskey's Parents

Birth Date: 00/00/0000
Parents
Sire: Williams Lonie Dam: William's Daisy

Birth Date: 0000-00-00
Parents
Sire: Bingham's Popper Dam: Johnson's Babe