Patrick
—» Details For: Patrick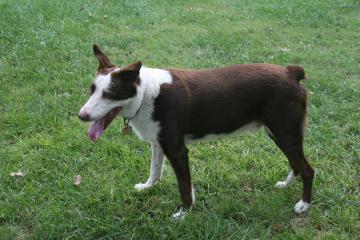 Status
In Competition/Training
About Patrick
Date Born: 03/17/2011
Patrick has returned home and is getting in shape for competing as a disc dog and a companion
Other Puppies in Patrick 's Litter
Jasper, Bear, Darcy, Hunter, Newt, Buster
Updates for Patrick
Patrick has returned home and is getting in shape for disc dog competitions and to be a great com...


Mike Hunter texted me on my phone and sent me pictures of Patrick. He looks like his dad Hy...


Mike Hunter picked up Patrick on 6.22.11. Patrick is going to do a lot of ruuning on the beach an...


Patrick is finally headed home next week. Mike's been busy with work so he left Patrick her...


Patrick is still available
...
Patrick and Grady having a Frisbee lesson.
Patrick is now 4 weeks old. He's already climbing out of the whelping box.
...
Patrick has just opened his eyes in the last few days. His ear canals have opened up too so now h...



2011-03-19
...


About Patrick's Parents

Birth Date: 2005-06-15
Parents
Sire: NA Dam: NA