Cody
—» Details For: Cody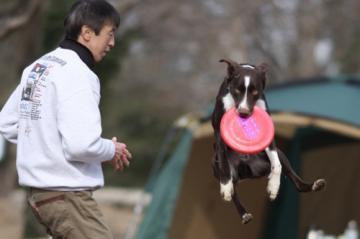 Status

Owner: Yukihiro Sekiguchi
Located In: Saitama, Japan

About Cody
Date Born: 11/01/2011
Beautiful red and white boy
Other Puppies in Cody 's Litter
Reese, Candy, Baby Ruth, Snickers, Tootsie Pop, Kit Kat, Mick
Updates for Cody
Cody is practicing his freestyle with Sayaka Hagiwara in Japan.
...
Cody is doing great with his owner Hiro Sekiguchi. He is competiting in Japan now with one ...


Cody, Owned by Hiro Sekiguchi competed in the Skyhoundz World Disc Dog Competition in the DiscDog...


I had Cody at a Skyhoundz Disc Qualifier last month to get him out and exposed to the sights and ...


Neccos on 11.16.11 was opening his eyes. They are now open.
...
About Cody's Parents

Birth Date: 2005-06-15
Parents
Sire: NA Dam: NA